Retirement
IRS Section 403(b) Defined Contribution Retirement Plan
Washtenaw ISD is pleased to offer you the opportunity to participate in the Washtenaw ISD 403(b) Plan as part of your benefits package.
A 403(b) plan is a defined contribution retirement plan for certain employees of public schools, employees of certain tax-exempt organizations, and certain ministers.
There are tax advantages to contributing to a 403(b) retirement plan:
You do not pay income tax on contributions until you begin making withdrawals from the plan, usually after you retire.
Earnings and gains on amounts in your 403(b) account are not taxed until you withdraw them.
As an employee of a public school AND state government, you have the ability to participate in the 403(b) plan, the 457 plan, or both plans.
The maximum contribution for 2015 calendar year is $18,000 to each a 403(b) and a 457. If you are age 50 or older, you may contribute up to a total of $24,000 to each a 403(b) and a 457. If you choose to participate in both, you may contribute up to a total of $36,000 ($48,000 if you are age 50 or older).
Most public school employers offer the ability for staff to contribute to a 403(b) plan via a salary deferral. This means that an employee has made an election to have some of their salary deferred (withheld on a pre-tax basis) and deposited into the 403(b) plan, thereby deferring any federal and state income taxes on those wages until the money is withdrawn from the plan.
Effective January 1, 2009, The Standard administers our 403(b) retirement plan. In cooperation with the Washtenaw ISD and Wayne RESA 403(b) Plan Consortium, a 403(b) Plan Question and Answer Information packet was prepared to help you understand the details.
What does the retirement plan look like?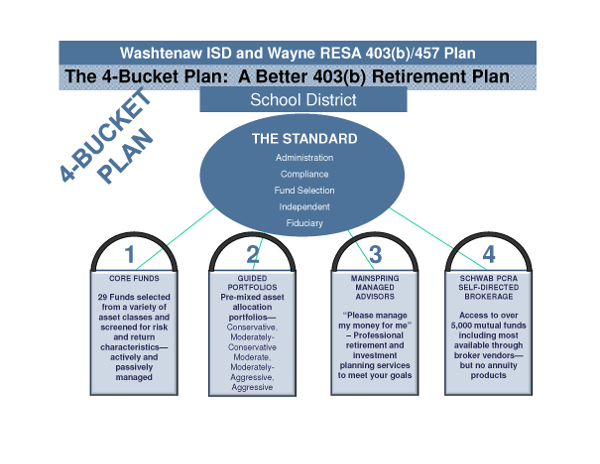 The Washtenaw ISD 403(b) plan is a single vendor model that is fairly unique in school districts. The core of the plan is very common in 403(b) ERISA plans for non-profit institutions like universities and hospitals and 401(k) plans for corporations. We have supplemented the core plan with a guided portfolio option, a managed portfolio option, and an open mutual fund window that, in our opinion, makes this a far superior retirement plan for our participants than was previously available to you here and at other public schools.
This four (4) bucket approach allows you to choose how much decision making you have delegated in your investment choices:
Bucket 1: Core Line-up - This bucket contains a core line-up of 29 mutual funds across broad investment categories and provides a mix of actively and passively managed mutual funds. This bucket would be for the participants that would like to select their own investment portfolio, knowing that all options have been reviewed by investment professionals and determined to be the best in its investment class.
Bucket 2: Guided Portfolios – This bucket contains five custom asset allocation portfolios that are created out of the underlying core fund line-up (Bucket 1) and range from conservative to aggressive. This bucket will help you through the process of choosing and managing your retirement assets by providing information and planning tools. After answering a few questions about your future goals and current retirement income sources, the tools discuss risk tolerance, diversification and possible investment options. An investor profile questionnaire leads you to one of the five portfolios that show how you may want to diversity your assets. Most participants will likely choose a Guided Portfolio.
Bucket 3: Mainspring Managed – This bucket is for the complete "please actively manage my money for me" approach. The Standard will do everything for you. Create a savings plan to help you meet your retirement needs, manage your investments and contributions to match your needs, provide access to a call center staffed with professional investment advisors, and provide ongoing statements to show your progress along the way. All investments will be created out of the underlying core fund line-up (Bucket 1). The cost is $10/month. You can register for Mainspring Managed online from your Personal Savings Center once you are enrolled in the plan.
Bucket 4: Open Brokerage Window – This bucket offers access to over 5,500 mutual funds, all without loads/sales commissions. This is a self-directed brokerage account through the Schwab Personal Choice Retirement Account (PCRA). Please note that the purchase of individual stocks in 403(b) retirement plans is not legal and is therefore not available through the Schwab PCRA. The cost is $35/year. If you wish to enroll in a Schwab PCRA account, you can use this link to enroll (www.schwab.com/pcra). Please note that you will need to have our District Plan ID and password in order to complete the online enrollment (request this from Brian Marcel at x1402); you will also need to provide your social security number.
Once you have opened a Schwab account, you can direct up to 95% of your investment into the Brokerage Account election on the Investment Form.
403(b) Plan Design Accolades
As the representatives from the Washtenaw ISD and Wayne RESA 403(b) Plan Consortium developed this plan design and requested proposals from plan administrators/investment advisors, it became clear that there were almost no plans out there anything like this in the public school industry. In 2010, Sharon Raschke from Dexter Community Schools submitted this 4-Bucket 403(b) Plan model/design for consideration of an award through the Association of School Business Officials International. This innovative plan "The 4-Bucket Plan: a better 403(b) retirement plan" received an Association of School Business Officials International 2010 Pinnacle of Achievement Award.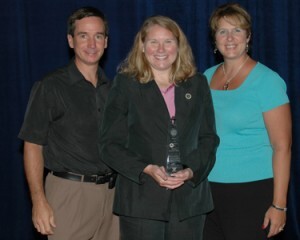 The Pinnacle of Achievement Award, ASBO Annual Conference, September 26, 2010. Brian Marcel (Washtenaw ISD), Sharon Raschke (Dexter), and Teresa Zigman (Chelsea) representing the Consortium.
ADA & Accessibility
Our School Strives To Ensure Our Website Is Accessible To All Our Visitors
Washtenaw ISD is committed to providing a website that is fully accessible and we are currently in the process of developing a new website to better meet the needs of our customers. Our new website will include improvements to ADA compliance and accessibility, and during this transition, we remain committed to maintaining our existing website's accessibility and usability.
Non Discrimination
It is the policy and commitment of the Washtenaw Intermediate School District not to discriminate on the basis of race, color, religion, national origin, sex, disability, age, height, weight, familial status, marital status, genetic information, sexual orientation or any legally protected characteristic, in its educational programs, activities, admissions, or employment policies in accordance with Title IX of the 1972 Educational Amendments, executive order 11246 as amended, Section 504 of the Rehabilitation Act of 1973 and all other pertinent state and Federal regulations.
Non Discrimination Information
ADA and Title IX Coordinator
ADA and Title IX Coordinator
Brian Marcel
Associate Superintendent
1819 S. Wagner Road
Ann Arbor, MI 48103
(734) 994-8100 ext. 1402
Cassandra Harmon-Higgins
Executive Director, HR & Legal Services
1819 S. Wagner Road
Ann Arbor, MI 48103
(734) 994-8100 ext. 1311