Deaf & Hard of Hearing (DHH)
Washtenaw Deaf & Hard of Hearing Program
Charter Statement
"We believe in a strength-based and student-focused model of education that empowers children who are Deaf/Hard of Hearing with resiliency, pride, integrity and self-advocacy. We are driven to implement evidence-based practices to promote the development of language and literacy (recognizing the critical period of birth to 3rd grade), collaborate as a team, embrace diversity, and ensure equal access to education so our students who have unique language and communication needs are provided the opportunity to reach their full potential."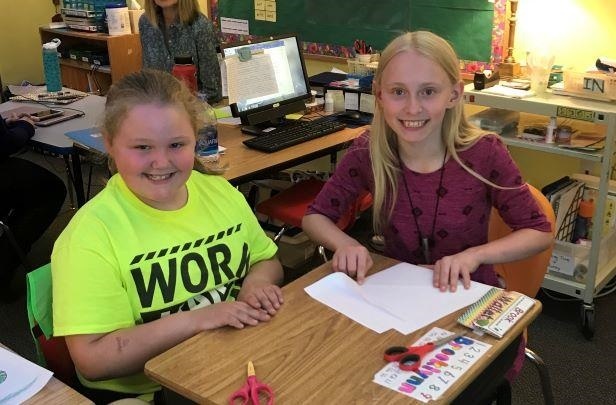 WISD provides a wide level of services to Deaf and Hard of Hearing students from throughout Washtenaw County.
Student Referral Criteria
Students are referred to the WISD D/HH services through the local districts. The referral is based on a select system of needs that the student exhibits in the areas of language and language processing, deficits in hearing and processing auditory language, incidental learning (visual or auditory), and deficits in common language for everyday experiences. Vocabulary development and knowledge deficits are assessed through the referral system, involving local district and WISD staff, along with the student's parents. As students are affected socially and academically by these deficits, the assessment team examines these areas as well as (but not limited to):
Deficits in learning new concepts and vocabulary (without frequent repetitions and visual aids)
Difficulty in repairing communication breakdowns in social or academic situations
High frustration levels (behaviorally) due to deficits in communicating effectively with others
Limitations in self-monitoring use of expressive language (too loud or not loud enough for the situation)
Exhibiting coping skills that limit understanding (nods head as if understands, even if lacks understanding)
Information needs to be presented in various ways to ensure understanding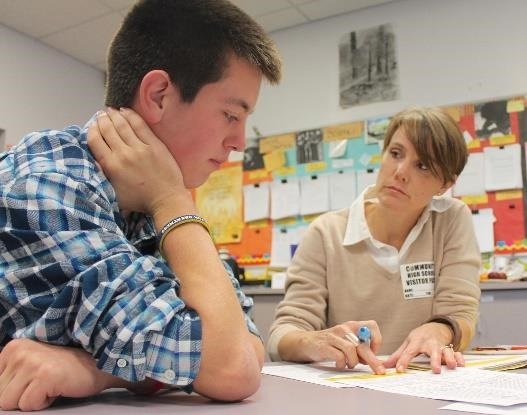 Teacher Consultants provide direct and consultative services (type of service determined by the IEP or 504 team) to the local districts for students who remain in their local district but require the services of a Teacher Consultant of the Deaf and Hard of Hearing. The WISD DHH TC will work to build capacity within the student's team. They will develop a plan with the local district classroom teacher and/or case manager; providing support for a variety of needs to assist the student in accessing the curriculum, per the IEP decision. They work with the team to assess, review, and implement support services based on ongoing data on student growth. They can also provide professional development in the areas of deaf learning and culture to the local district team.
STAFF:
Ashley Barbour
Preschool-Young Adult (26 years)
Mary Ann Devos
Preschool-Young Adult (26 years)
Jaime Elgas
Preschool-Young Adult (26 years)
Meghan Moore
Preschool-Young Adult (26 years)
Sandy Hummel
Preschool-Young Adult (26 years)
Tammy Kamran
Preschool-Young Adult (26 years)
Carlene Laskey
Early On (0-3 years) & Preschool
Laura Schaffer
Preschool-Young Adult (26 years)
Classrooms are offered from the preschool through the 8th grade.
Classrooms are supported by:
classroom assistants with knowledge and experience about students who are deaf or hard of hearing
American Sign Language interpreters
speech and language therapist specifically trained with extensive experience working with students who are deaf or hard of hearing
social worker with experience working with students who are deaf or hard of hearing
educational audiologist
occupational therapist
school psychologist
Classrooms provide services to the student based on their unique needs as determined by the IEP. This may include but is not limited to academics in all subjects and extensive language and vocabulary intervention.
Classroom locations:
1735 S Wagner Rd
Ann Arbor
Honey Creek Community Schools
(Charter school, authorized by the Washtenaw Intermediate School District and located in the High Point Building)
Classroom: preschool-1 st grade classroom
Classroom: 2nd grade-8th grade
Support Staff
ADA & Accessibility
Our School Strives To Ensure Our Website Is Accessible To All Our Visitors
Washtenaw ISD is committed to providing a website that is fully accessible and we are currently in the process of developing a new website to better meet the needs of our customers. Our new website will include improvements to ADA compliance and accessibility, and during this transition, we remain committed to maintaining our existing website's accessibility and usability.
Non Discrimination
It is the policy and commitment of the Washtenaw Intermediate School District not to discriminate on the basis of race, color, religion, national origin, sex, disability, age, height, weight, familial status, marital status, genetic information, sexual orientation or any legally protected characteristic, in its educational programs, activities, admissions, or employment policies in accordance with Title IX of the 1972 Educational Amendments, executive order 11246 as amended, Section 504 of the Rehabilitation Act of 1973 and all other pertinent state and Federal regulations.
Non Discrimination Information
Title IX Coordinator
ADA and Title IX Coordinator
Brian Marcel
Associate Superintendent
1819 S. Wagner Road
Ann Arbor, MI 48103
(734) 994-8100 ext. 1402
Cassandra Harmon-Higgins
Executive Director, HR & Legal Services
1819 S. Wagner Road
Ann Arbor, MI 48103
(734) 994-8100 ext. 1311