Literacy
CVI Literacy
All students should have access to rich literacy instruction. For students with CVI, literacy is taught in a slightly different way.
Students with a CVI Range 1-3 are working on increasing looking using familiar objects used throughout the day. It helps to use single color objects/shiny objects of the child's preferred color (most often red or yellow). An example would be a red spoon at lunch. Some students will have items they already look at that are more complex. Keep using these items, that's great progress! When presenting these items, describe their features- what makes a spoon a spoon. Giving students consistent time to look at items in their environment will help them increase their range score and prepare them for more literacy activities. Letter sounds can also be taught using an auditory method before a child is able to view 2-d images. Students at this level can still be presented with visual items, they just may not be able to look at them and if they do look, they may not be perceiving what they are seeing.
Once a student has a range score of at least 4, 2-d images can be introduced. The easiest 2-d image to perceive are photographs and most often photographs of familiar items. The set of items and photos can be gradually increased. Letter sounds can also start to be integrated with their 2-d images once a child reaches this level. Highlighting letters and word with a preferred color helps draw attention and learn the shape of words and letters. The lighting of a screen also helps draw attention. So these are meant to be presented on a screen and do not need to be printed.
NVI Accessible Books
Check out the Roman Word Bubbling webpage. This webpage app allows you to make any word bubbled for attention to shape of the word to support learning.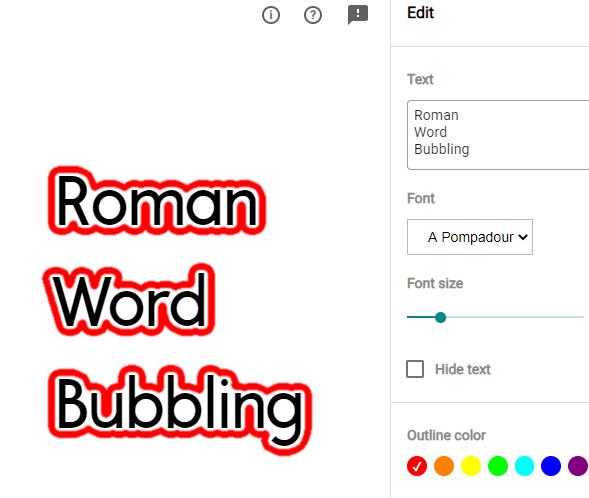 ADA & Accessibility
Our School Strives To Ensure Our Website Is Accessible To All Our Visitors
Washtenaw ISD is committed to providing a website that is fully accessible and we are currently in the process of developing a new website to better meet the needs of our customers. Our new website will include improvements to ADA compliance and accessibility, and during this transition, we remain committed to maintaining our existing website's accessibility and usability.
Non Discrimination
It is the policy and commitment of the Washtenaw Intermediate School District not to discriminate on the basis of race, color, religion, national origin, sex, disability, age, height, weight, familial status, marital status, genetic information, sexual orientation or any legally protected characteristic, in its educational programs, activities, admissions, or employment policies in accordance with Title IX of the 1972 Educational Amendments, executive order 11246 as amended, Section 504 of the Rehabilitation Act of 1973 and all other pertinent state and Federal regulations.
Non Discrimination Information
ADA and Title IX Coordinator
ADA and Title IX Coordinator
Brian Marcel
Associate Superintendent
1819 S. Wagner Road
Ann Arbor, MI 48103
(734) 994-8100 ext. 1402
Cassandra Harmon-Higgins
Executive Director, HR & Legal Services
1819 S. Wagner Road
Ann Arbor, MI 48103
(734) 994-8100 ext. 1311