Desktop Support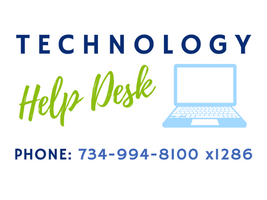 Calling the Help Desk
The phones are manned M-F; 7:30 a.m. to 4 p.m. If your problem is an emergency, call us at x1286 (734-994-8100 x1286).
Customers requesting support, who are not employees of WISD, should still call the Help Desk number. If we can help you, we will.
How To
Installing FindTime in Outlook
Open Outlook for the web in your browser.
https://outlook.office365.com/mail
Select New message to open a new email.

To the right of the Send and Discard buttons, select the ellipses button (…) and then select Get Add-ins.


Search for the FindTime add-in.


Select Add.

You will now see the FindTime Reply with Meeting Poll in the Home tab in Outlook.
https://support.microsoft.com/en-us/office/install-findtime-2501ff38-0a47-4dc5-999f-bcca329f0f63
Create a scheduling poll with FindTime
Using the Desktop version of Outlook
Create a new email or select an email to reply to.
List people required for the meeting in To and optional participants in Cc.
In the Home tab select Reply with meeting poll or New Meeting Poll. You may have to select the three dots (More commands) in the ribbon and look under Findtime.

Select the meeting settings.

FindTime looks through the attendees' schedules (if available) and suggests suitable meeting times. Select a few suitable meeting times.

Select Next.

Enter the meeting location.

Select Poll settings and toggle the ON/OFF options.
Select Insert to email.
FindTime inserts the suggested meeting times into your email. Select Edit Options to change the meeting settings, if necessary.
Select Send to send the meeting invites and start the voting process.

You will receive a direct link to the voting page for your meeting.
Using Outlook on the Web
Findtime can also be used in Outlook Web by clicking the three dots while composing an email.

Select Scheduling Poll from the options and follow the same process to send a poll.
https://support.microsoft.com/en-us/topic/how-to-create-a-findtime-poll-4dc806ed-fde3-4ea7-8c5e-b5d1fddab4a6
Logging into the WISD Technology Ticketing System
The WISD ManageEngine Ticketing System link can be found on the WISD website under the staff section, or can be reached at the following link:
https://ithelp.washtenawisd.org/HomePage.do
You will be asked to login to the ticketing system using your username and password.

IMPORTANT! Use only your username, not your full email address in the username field. If you log in using your full email address as the username you will not be given a template to enter a ticket. Your password will be your Active Directory password (the same password you use to log in to Windows or your Outlook email).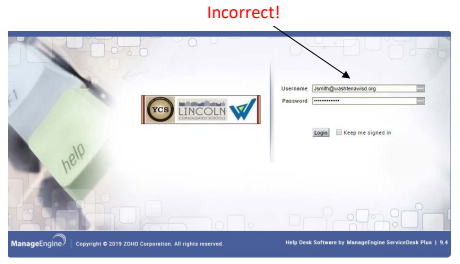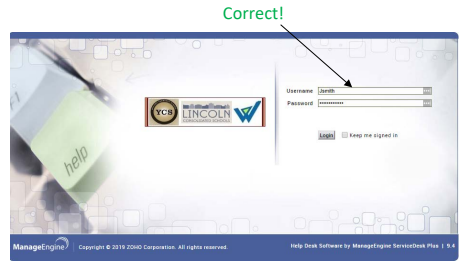 After successfully logging in to the ticketing system, you will see a template option. Use this template to enter a helpdesk ticket.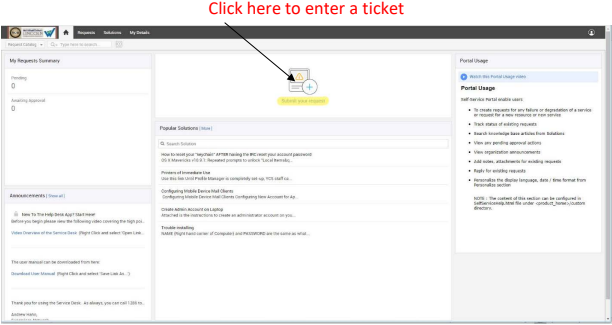 The template will be a little different for each person, depending on where you work at the WISD. If you need additional help filling out a ticket or have any questions, please contact the WISD helpdesk at 734-994-8100 x1286.
How to Update/Reset your Windows Password
The following steps will change your Windows password. Your Windows password change will be impact the following services:
Your desktop/laptop login
Your Outlook e-mail login.
Your Office 365 login
Your ManageEngine (technology ticket) login
Internal wireless network "WISD-Internal"
STEPS
1. You MUST be on the Internal WISD network.
2. Press the CTRL, ALT DELETE keys on your keyboard at the same time.

3. Your Windows background will change and you will be presented with a few options. Please click on "Change a Password...."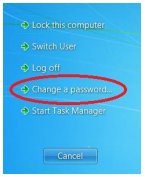 4. You will then be prompted to type in your old password (your current password)
Type in your new password
Re-type in your new password for confirmation.
Your username should automatically populate in the top field, as shown below. If it doesn't, please type in WISD\your username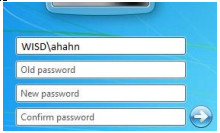 5. When finished, click on the white arrow in the blue circle (indicated in red below).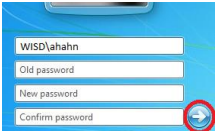 6. You will then get a notification stating your password has been changed. Once you receive this, click "OK" and your normal desktop should appear again.

7. If you have any questions or concerns, please feel free to contact the IT Helpdesk at extension 1286.
If your device is not connected to any networks, navigate to the globe icon in the bottom right of your screen.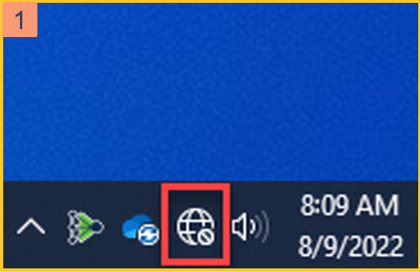 Select a network from the list and press connect. Some networks may prompt for additional steps (ex: WISD-Public requires an email address).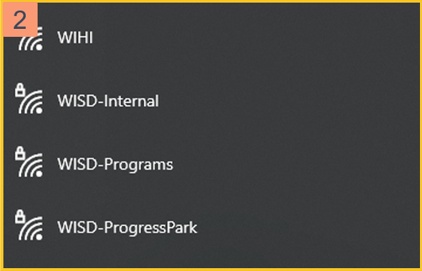 To connect to the internal network, check the highlighted box when prompted for a username/password and Windows will automatically enter your credentials. Alternatively, enter your WISD login info. (The same you used to log onto the device.)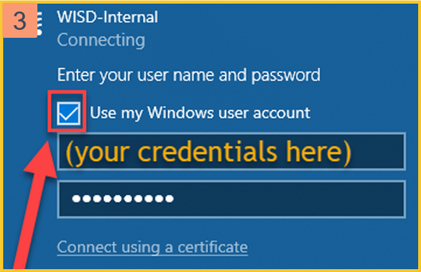 If the following text appears under the network name, your device has connected to the network.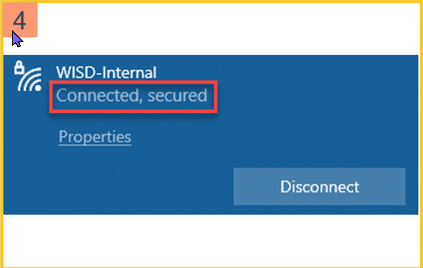 If the connection was not successful, right click anywhere in the blue box, click Forget, and repeat the process. Forget may also be used if your device is on the wrong network.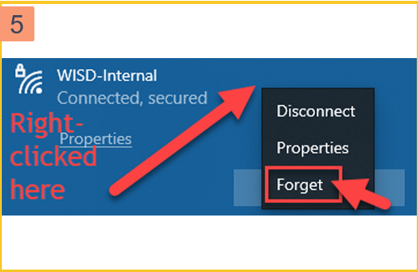 Instashare 2 Quick Connect Guide
Launching InstaShare 2 on the display
Follow either way to access InstaShare 2 on the display:
On the IFP main interface, select Wireless Projection > InstaShare 2
Click Apps > InstaShare 2 to launch the software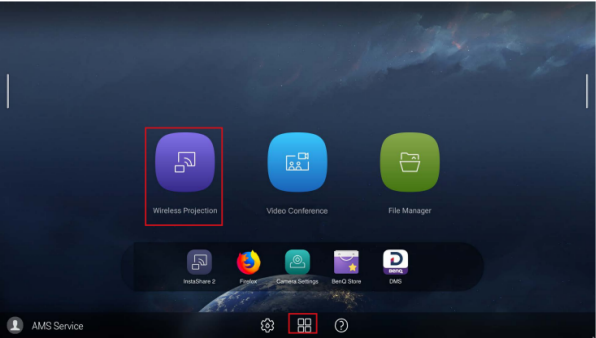 Select InstaShare on the BenQ using one of the methods listed above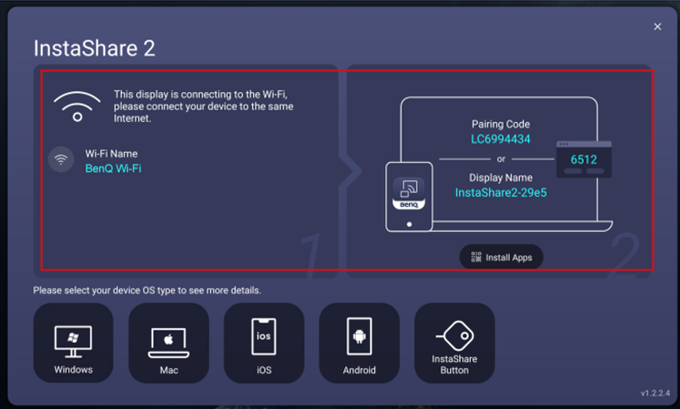 Retrieve pairing code from BenQ once InstaShare launches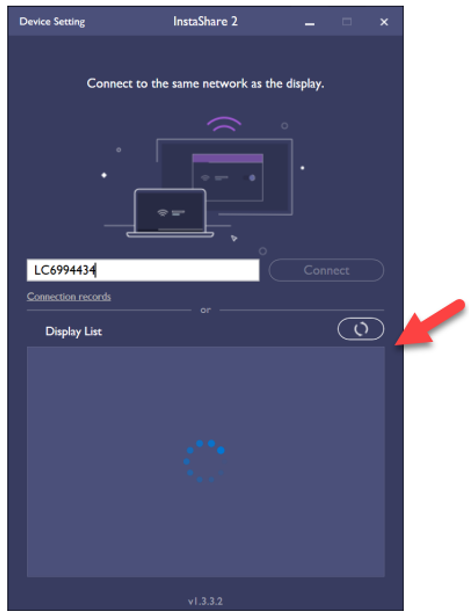 Launch InstaShare 2 on your device that is connected to the same network as the BenQ, enter the code into the window, and click "Connect"
Determine the best location for your Owl: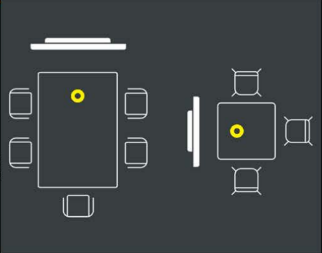 Place your Meeting Owl Pro on the conference table as described in the pic to the left.
A. In a small huddle room that fits two to four people, place the Owl in the center of the table, at least 12 inches from the TV.
B. If you're meeting in a larger conference room (up to 15 feet by 20 feet), place the Owl in the center of the table. It should be at least three feet from the TV, but no more than eight feet from the farthest participant.
C. In classrooms, the Meeting Owl Pro can be placed on a desk at the front of the room. The Owl can also be mounted to a tripod and positioned in the center of the room for an equalized learning experience.
---
Connect to the Owl: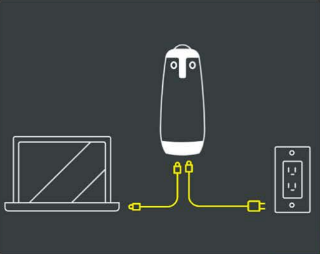 Turn the Owl over and plug in the USB cable and power adapter. Then, connect the Meeting Owl Pro to an in-room computer or laptop via USB and plug the Owl into power.
---
Start Your Meeting and Setup Audio/Video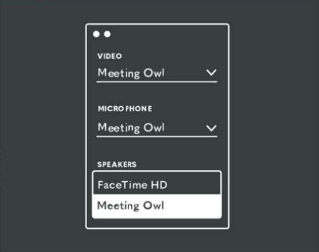 Start your video conferencing platform and choose the Meeting Owl for audio and video.
**Zoom does this automatically if the Owl is plugged into your computer.
The Meeting Owl Pro works with video conferencing software like Zoom, GoToMeeting, Skype, Cisco WebEx, and more. Here's a full list of compatible video conferencing software options.
WebEx by Cisco
Google Hangouts
Google Meet
GoToMeeting
Microsoft Teams
Skype
Skype for Business
Zoom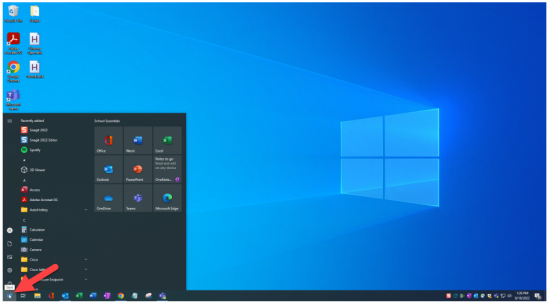 Click the Windows button on the bottom left of your screen - this will open the Start Menu.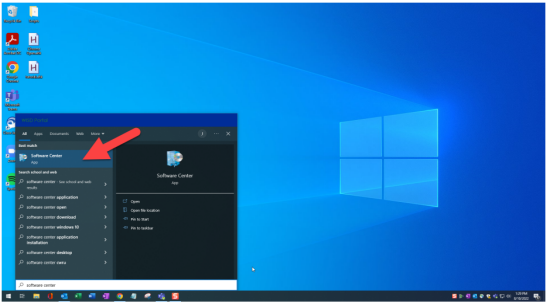 Type "Software Center" with the Windows Start Menu open. Then click Software Center in the list that appears. This will open the application.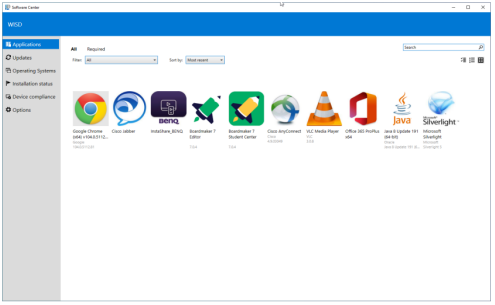 Once Software Center is open, you will see a list of available applications you can install and use. Choose whichever one you need from the list.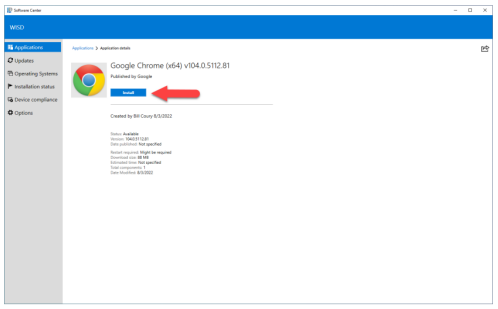 After you have selected an application, simply click the install button to install the application. Once the installation is complete, a shortcut will appear on your desktop.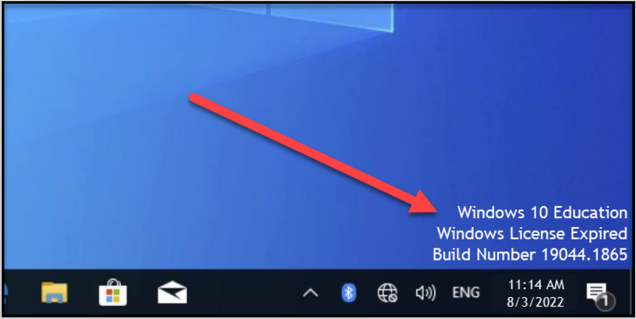 Your WISD issued Windows device needs to check in to the WISD network every six months to renew the Windows license. The best course of action is to bring the device to the TLC and login on the wireless network (WISD-Internal). When the device checks in to the network, it will renew the license automatically and the message will disappear.
It should only take a minute or two for the license to renew and the message to disappear. After that you will be good for at least another 6 months.
If you have any questions, please call the WISD Tech department (734) 994-8100 x1286.
Technology Equipment & Supplies
Damaged or Broken Devices
We understand that sometimes accidents happen. There are a few simple steps you can take if your or a student's equipment is damaged or broken beyond repair. Read below for instructions.
Login to our HelpDesk and submit a ticket with the Technology Department.

Provide as much information about the device's condition as you're able.
Provide the WISD asset tag number or 10-digit barcode number, if you can locate.
Provide the serial number, if you can locate it.
If you think you need a loaner device, please let us know in the ticket.

A technician will respond and send you a link to schedule a device drop-off appointment.
Once the technician receives the device, he/she will determine if the device can be repaired or replaced and will notify your supervisor for approval of any costs.
When your repaired or replaced device is ready for pick up, the technician will send you a link to schedule a pick-up appointment (remember to return any loaner device you may have!)

Damaged or Broken Devices
MY EQUIPMENT WAS LOST OR STOLEN - WHAT SHOULD I DO?
There are 2 critical steps to take should your WISD-issued equipment become lost or stolen:
File a report with local police. If they locate the device, they will call the WISD to retrieve it.
Click here to submit a HelpDesk ticket with the Technology Dept or call us at 734-994-8100 ext. 1286.

Provide as much information about the device as you are able, including the device type (laptop, iPad, etc.), asset tag number, and so on.
Provide a copy of the police report and/or the case number.
Letting the police and your Tech Dept. know about lost or stolen equipment allows us to take important security measures to protect any sensitive or confidential information on your device. Let us know about the incident as soon as you become aware that the item is missing.

Lost or Stolen Devices
Equipment, Software & Supplies
TECHNOLOGY EQUIPMENT & SOFTWARE
The Tech Dept. will handle the purchase and configuration of most technology requests, such as:
Desktop computers
Laptops
Monitors
Phones
Software purchases and installations
SUPPLIES
Some items fall into a different category called 'supplies,' which are items that are considered supportive to or enhancing of the equipment listed above. These are items that do not need to be purchased by the Tech Dept on equipment accounts. Some examples of supplies are:
Screen protectors
Cases
Bags
Keyboards
Mice
Speakers
ORDERING SUPPLIES
If your tech request falls into the 'supply' category, please see your direct supervisor and department OP for support.
The Tech Dept. also keeps some of these items in stock, like keyboards, mice, and speakers, so feel free to check in with us!
If you would like to request a quote for a specific supply item or need help choosing a supply item, please call ext. 1286 or submit a HelpDesk ticket and we'll gladly do our best to aid in your decision-making.

Technology Equipment & Supplies
WISD Technology Replacement Program 
The goal of the WISD Technology Replacement Program is to provide staff and students with the most current technology possible while balancing this with a responsible, cost-effective strategy to get the most out of the available technology funding.
Currently, all WISD issued desktops and laptops are on a 5-year replacement cycle. The replacement date is determined by the fiscal year in which a device was initially purchased. Staff and classroom equipment is reviewed and audited yearly for the upcoming replacement cycle to determine eligibility for updates, replacement, or redeployment. Staff and classroom equipment is reviewed and audited yearly for the upcoming replacement cycle to determine eligibility for updates, replacement or re-deployment. We include any laptop or desktop due for replacement in the fiscal year budget starting 7/1 of the replacement year.
We will be adding other devices, such as iPads, Chromebooks, Projectors and Interactive Displays to our replacement cycle in the future. The replacement cycle timeline for these devices is yet to be determined.
Off Cycle Replacement Requests:
Equipment requests outside the normal replacement cycle requiring replacement or repair should be submitted through the Technology Purchase Form in Script for review by Department supervisors and appropriate Technology Department staff.
1. From the desktop select file explorer from the taskbar.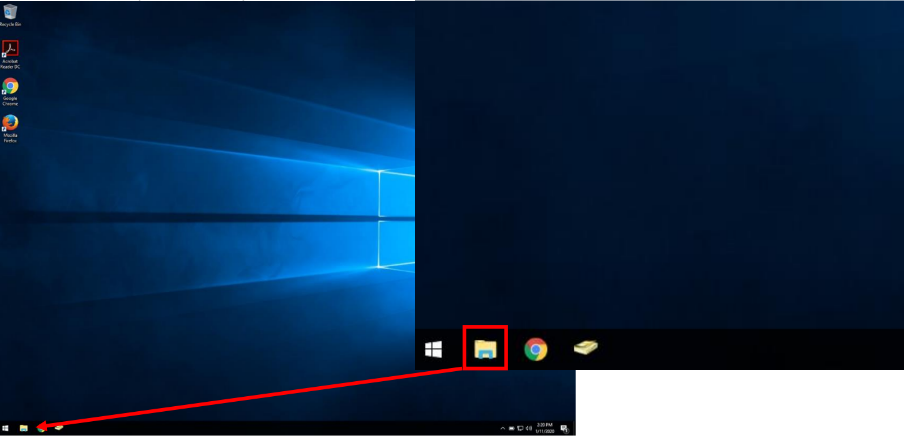 2. Locate and select "This PC" on the left-hand side and open the P: drive near the bottom. (You must be on the WISD network to access this location)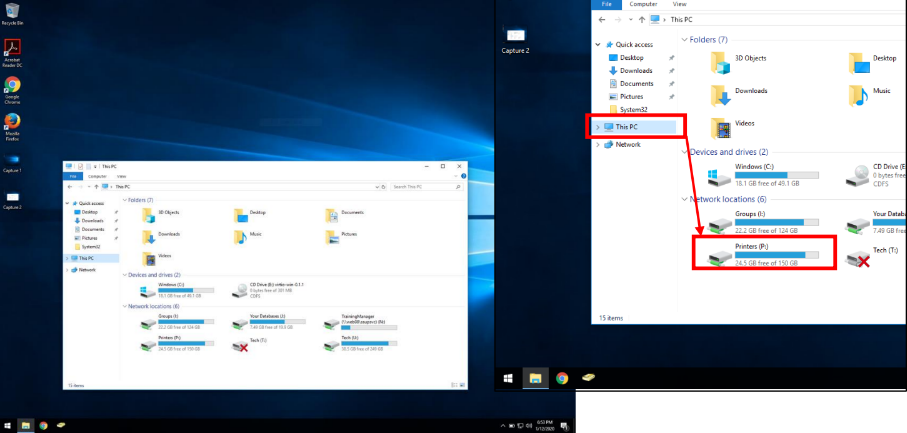 3. Double-click your printer from the available list. Each printer takes, at most, a minute to install.

Please note some printers might not be available in this drive.
Please call x1286 if you need additional help or have questions.
Applied Imaging printing and repair service
WISD outsources most printer services to Applied Imaging.
This allows a faster turnaround time for:
Printer repair
Toner replacement
Waste removal and recycling
General service calls
SUBMITTING SERVICE & SUPPLY REQUESTS
For service or supplies on all WISD-owned copiers and desktop printers, please: 877-509-0770
Or email Applied Imaging
Provide the 5-digit ID number on the tag: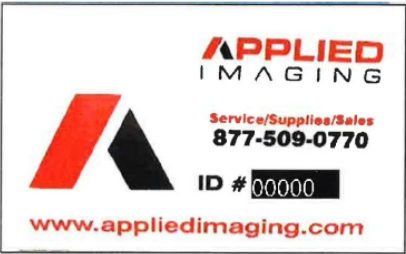 **Please also feel free to report broken equipment to Tech staff by calling us at 734-994-8100 ext. 1286. We can report the issue to Applied Imaging on your behalf.**
REQUESTING NEW EQUIPMENT
Click here to start your request for a quote or information for a new printer or copier.
Tech Dept. staff might have a few follow up questions! We'll need to discuss your printing needs and environment to get a better idea of what equipment will be the best fit and if any other work is required to put a printer in place.

WISD Printers & Copiers
ADA & Accessibility
Our School Strives To Ensure Our Website Is Accessible To All Our Visitors
Washtenaw ISD is committed to providing a website that is fully accessible and we are currently in the process of developing a new website to better meet the needs of our customers. Our new website will include improvements to ADA compliance and accessibility, and during this transition, we remain committed to maintaining our existing website's accessibility and usability.
Non Discrimination
It is the policy and commitment of the Washtenaw Intermediate School District not to discriminate on the basis of race, color, religion, national origin, sex, disability, age, height, weight, familial status, marital status, genetic information, sexual orientation or any legally protected characteristic, in its educational programs, activities, admissions, or employment policies in accordance with Title IX of the 1972 Educational Amendments, executive order 11246 as amended, Section 504 of the Rehabilitation Act of 1973 and all other pertinent state and Federal regulations.
Non Discrimination Information
ADA and Title IX Coordinator
ADA and Title IX Coordinator
Brian Marcel
Associate Superintendent
1819 S. Wagner Road
Ann Arbor, MI 48103
(734) 994-8100 ext. 1402
Cassandra Harmon-Higgins
Executive Director, HR & Legal Services
1819 S. Wagner Road
Ann Arbor, MI 48103
(734) 994-8100 ext. 1311