FAQ
If you have software that needs to be installed on your WISD computer, please put in a CSR to have this done.
In the Description, please include the software that needs to be installed and the asset tag of the computer the software is to be installed on. If it is new software that has not been previously evaluated by the Security team, that will need to occur first. Once approved, the Desktop team will reach out to install the software.
If you need app(s) installed on a WISD iPad, please submit a CSR to have this done.
In the Description, please include the names of the app(s) and the asset tag of the iPads that it will need to be installed on. If it is an app that has not been previously evaluated by the Security team, that will need to occur first. If the app is paid, you will need to obtain supervisor approval. No supervisor approval is needed for free apps. Once approved, the app will be pushed remotely to your iPad via our Apple Device Manager. The next time the iPad connects to Wi-Fi the app will be installed.
Installing a WISD Network Printer
1. From the desktop select file explorer from the taskbar.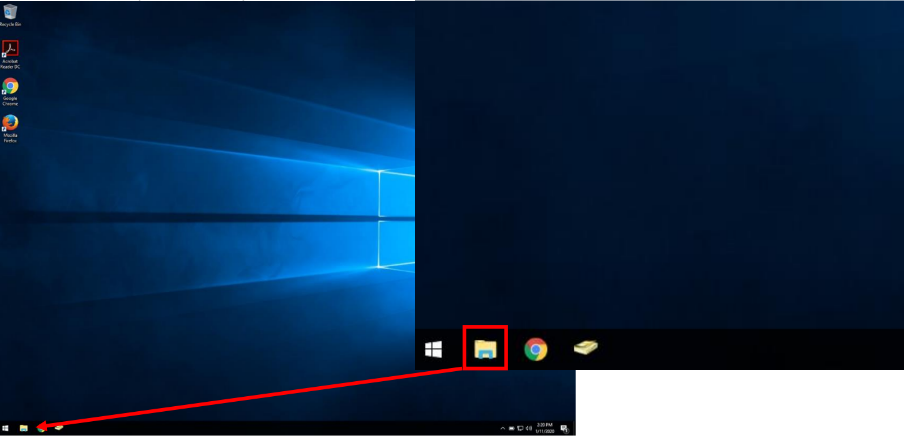 2. Locate and select "This PC" on the left-hand side and open the P: drive near the bottom. (You must be on the WISD network to access this location)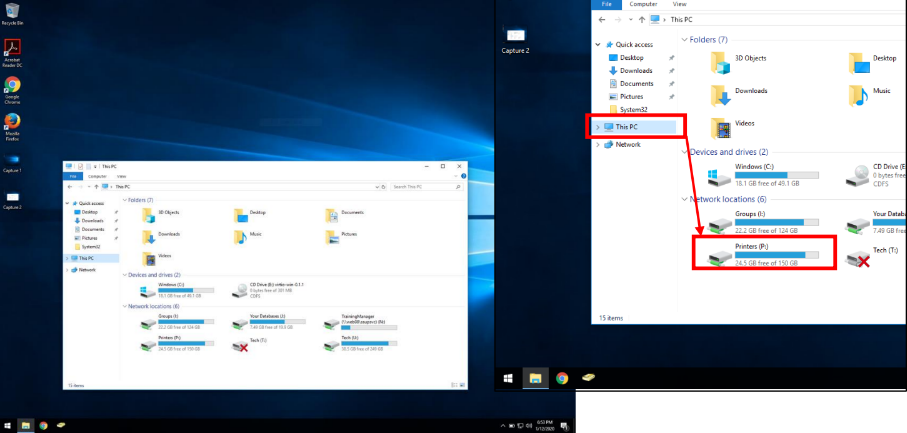 3. Double-click your printer from the available list. Each printer takes, at most, a minute to install.

Please note some printers might not be available in this drive.
Please call x1286 if you need additional help or have questions.
How to login to CSR HelpDesk IT Ticketing Service
The WISD ManageEngine Ticketing System link can be found on the WISD website under the staff section, or can be reached at the following link:
https://ithelp.washtenawisd.org/HomePage.do
You will be asked to login to the ticketing system using your username and password.

IMPORTANT! Use only your username, not your full email address in the username field. If you log in using your full email address as the username you will not be given a template to enter a ticket. Your password will be your Active Directory password (the same password you use to log in to Windows or your Outlook email).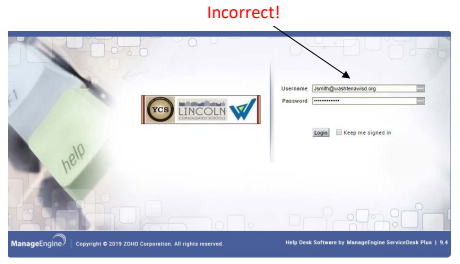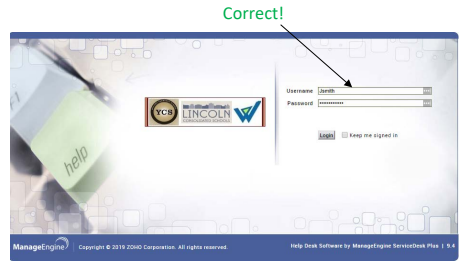 After successfully logging in to the ticketing system, you will see a template option. Use this template to enter a helpdesk ticket.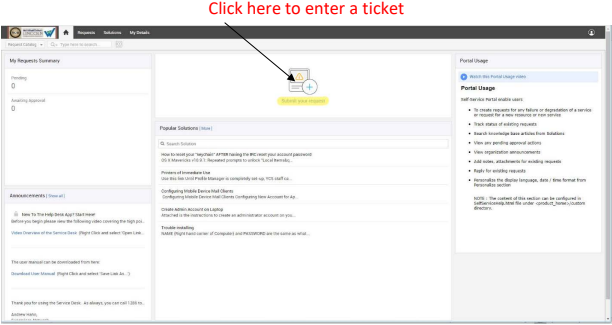 The template will be a little different for each person, depending on where you work at the WISD. If you need additional help filling out a ticket or have any questions, please contact the WISD helpdesk at 734-994-8100 x1286
How to Update/Reset you Windows Password
The following steps will change your Windows password. Your Windows password change will be impact the following services:
Your desktop/laptop login
Your Outlook e-mail login.
Your Office 365 login
Your ManageEngine (technology ticket) login
Internal wireless network "WISD-Internal"
STEPS
1. You MUST be on the Internal WISD network.
2. Press the CTRL, ALT DELETE keys on your keyboard at the same time.

3. Your Windows background will change and you will be presented with a few options. Please click on "Change a Password...."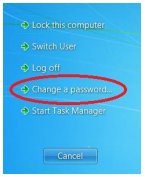 4. You will then be prompted to type in your old password (your current password)
Type in your new password
Re-type in your new password for confirmation.
Your username should automatically populate in the top field, as shown below. If it doesn't, please type in WISD\your username


5. When finished, click on the white arrow in the blue circle (indicated in red below).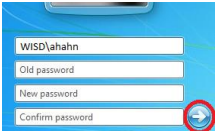 6. You will then get a notification stating your password has been changed. Once you receive this, click "OK" and your normal desktop should appear again.

7. If you have any questions or concerns, please feel free to contact the IT Helpdesk at extension 1286.
Contacting Technology for Support
If you are having a problem, we want to hear from you!
Entering a Customer Service Request
If you are experiencing a technical problem please navigate to the CSR Ticket Login Page and enter your WISD network username and password in the appropriate fields. After you login, create a ticket describing the problem. The tickets generated by the system send alerts to everyone in Technology, so we will see your ticket and respond.
Calling the Help Desk
If your problem is an emergency, call us at x1286 (734-994-8100 x 1286). The phones are manned M-F; 7:30 a.m. to 4 p.m.
Customers requesting support, who are not employees of WISD, should still call the Help Desk number. If we can help you, we will.
ADA & Accessibility
Our School Strives To Ensure Our Website Is Accessible To All Our Visitors
Washtenaw ISD is committed to providing a website that is fully accessible and we are currently in the process of developing a new website to better meet the needs of our customers. Our new website will include improvements to ADA compliance and accessibility, and during this transition, we remain committed to maintaining our existing website's accessibility and usability.
Non Discrimination
It is the policy and commitment of the Washtenaw Intermediate School District not to discriminate on the basis of race, color, religion, national origin, sex, disability, age, height, weight, familial status, marital status, genetic information, sexual orientation or any legally protected characteristic, in its educational programs, activities, admissions, or employment policies in accordance with Title IX of the 1972 Educational Amendments, executive order 11246 as amended, Section 504 of the Rehabilitation Act of 1973 and all other pertinent state and Federal regulations.
Non Discrimination Information
ADA and Title IX Coordinator
ADA and Title IX Coordinator
Brian Marcel
Associate Superintendent
1819 S. Wagner Road
Ann Arbor, MI 48103
(734) 994-8100 ext. 1402
Cassandra Harmon-Higgins
Executive Director, HR & Legal Services
1819 S. Wagner Road
Ann Arbor, MI 48103
(734) 994-8100 ext. 1311