Red Oak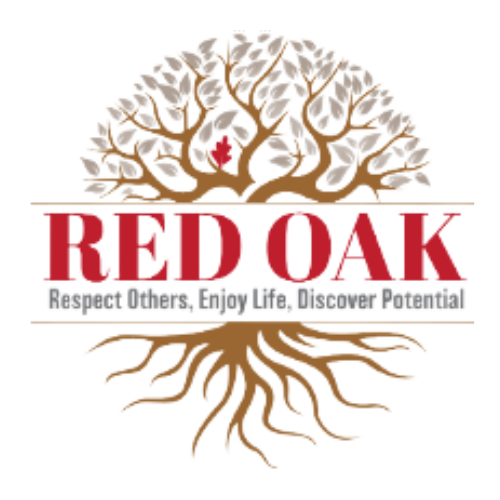 Guiding Principles -
Our Red Oak community strives to:
Respect others
Enjoy life &
Discover potential
And we actively practice being:
Open minded
Ambitious &
Kind
Red Oak is a public school entity, operated by Washtenaw Intermediate School District, and is dedicated to meeting the special needs of young adults with disabilities from ages 18 through 26.
Red Oak offers programming for students with various cognitive impairments. We believe that all students should have the opportunity to learn independence skills. At Red Oak, we pride ourselves by exposing the young adult to education in the physical location as well as exposure throughout the community to help prepare them for independent living.
We also provide consult services in occupational therapy, speech pathology, physical therapy, school psychology, social work, music therapy, and adaptive physical education.
To be enrolled at Red Oak, a student must be:
A resident of one of the following Washtenaw County public school districts: Ann Arbor, Chelsea, Dexter, Lincoln, Manchester, Milan, Saline, Whitmore Lake, or Ypsilanti.
Referred by local school personnel.
Evaluated by a team of professionals from Red Oak, WISD referral team, and the local school district. Evaluations include a classroom/teacher assessment, a psychological evaluation, and may include an occupational and physical therapy assessment and a speech and language assessment.
If the student is determined to be eligible for programming at Red Oak placement is based on level of independence, social maturity, and physical development.
Our Red Oak community strives to:
Respect others
Enjoy life &
Discover potential
And we actively practice being:
Open minded
Ambitious &
Kind
Address:
850 Red Oak Rd
Ann Arbor, MI 48103
Phone:
Phone: (734) 994-8190
Fax: (734) 436-8084
Hours:
Full Day: 7:50 am-2:10 pm
Half Day: 7:50 am-11:20 am
ADA & Accessibility
Our School Strives To Ensure Our Website Is Accessible To All Our Visitors
Washtenaw ISD is committed to providing a website that is fully accessible and we are currently in the process of developing a new website to better meet the needs of our customers. Our new website will include improvements to ADA compliance and accessibility, and during this transition, we remain committed to maintaining our existing website's accessibility and usability.
Non Discrimination
It is the policy and commitment of the Washtenaw Intermediate School District not to discriminate on the basis of race, color, religion, national origin, sex, disability, age, height, weight, familial status, marital status, genetic information, sexual orientation or any legally protected characteristic, in its educational programs, activities, admissions, or employment policies in accordance with Title IX of the 1972 Educational Amendments, executive order 11246 as amended, Section 504 of the Rehabilitation Act of 1973 and all other pertinent state and Federal regulations.
Non Discrimination Information
ADA and Title IX Coordinator
ADA and Title IX Coordinator
Brian Marcel
Associate Superintendent
1819 S. Wagner Road
Ann Arbor, MI 48103
(734) 994-8100 ext. 1402
Cassandra Harmon-Higgins
Executive Director, HR & Legal Services
1819 S. Wagner Road
Ann Arbor, MI 48103
(734) 994-8100 ext. 1311