For those of you who have laptops, you may be getting an error or message stating you need to Activate Windows. You may see something similar to the image below on your laptop background in the lower right corner: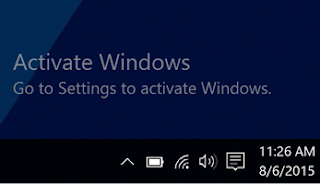 This happens when your laptop hasn't connected to our WISD Internal network for a long period of time. Your WISD Windows laptop needs to check in to the WISD network every six months or so to renew the Windows license. The best course of action is to bring the device to the WISD TLC building and login on the wireless network (WISD-Internal). When the device checks in to the network, it will renew the license automatically and the message should disappear.
The wireless signal should be strong enough to reach the parking lot, you should be able to reach the WISD-Internal network without even entering the building. People have been able to reach it from their car, while others have had to walk up to the building to reach it. You simply login, connect to the WISD-Internal network and wait a few minutes for it to activate.
After that you should be good for at least another 6 months. If you have any questions, please let me know or contact our help desk at 734-994-8100 extension 1286.
ADA & Accessibility
Our School Strives To Ensure Our Website Is Accessible To All Our Visitors
Washtenaw ISD is committed to providing a website that is fully accessible and we are currently in the process of developing a new website to better meet the needs of our customers. Our new website will include improvements to ADA compliance and accessibility, and during this transition, we remain committed to maintaining our existing website's accessibility and usability.
Non Discrimination
It is the policy and commitment of the Washtenaw Intermediate School District not to discriminate on the basis of race, color, religion, national origin, sex, disability, age, height, weight, familial status, marital status, genetic information, sexual orientation or any legally protected characteristic, in its educational programs, activities, admissions, or employment policies in accordance with Title IX of the 1972 Educational Amendments, executive order 11246 as amended, Section 504 of the Rehabilitation Act of 1973 and all other pertinent state and Federal regulations.
Non Discrimination Information
ADA and Title IX Coordinator
ADA and Title IX Coordinator
Brian Marcel
Associate Superintendent
1819 S. Wagner Road
Ann Arbor, MI 48103
(734) 994-8100 ext. 1402
Cassandra Harmon-Higgins
Executive Director, HR & Legal Services
1819 S. Wagner Road
Ann Arbor, MI 48103
(734) 994-8100 ext. 1311