WISD has Google Apps for Education available for all Agency staff!
The Technology department has created a Google Apps account for each staff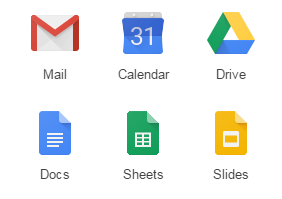 member. This means you now have both an Office365 and Gmail account. This will allow you to function within Google Apps for education with your Gmail account safely and securely, in addition to using the Microsoft office suite and outlook through your Office 365 account.
Basic Account Information:
Both accounts have the same login ID (first initial + last name)
Your WISD Office 365 account ends with the @washtenawisd.org domain
Your WISD Agency Gmail account ends with the @washisd.net domain
Do both accounts have the same Password?
No, You will need to reset your Active directory/computer login password to sync the two accounts. Please follow the steps:
Press the CTRL, ALT DELETE keys on your keyboard at the same time.
Your Windows background will change and you will be presented with a few options. Please click on "Change a Password…."
You will then be prompted to type in your old password (your current password)

Type in your new password
Re-type in your new password for confirmation.

When finished, click on the white arrow in the blue circle (indicated in red below).
You will then get a notification stating your password has been changed. Once you receive this, click "OK" and your normal desktop should appear again.
How do I log in to Google Apps?
Open a Web Browser.
Go to gmail.com
Enter your login ID
Enter your Password *
*Beginning in September, 2019 Technology will be syncing Google passwords to computer logins. If you change your computer login in September, your Google password will sync to the same password. This will only happen when you change your password.
Do I have to check both accounts?
These two accounts act independently for each other. Unless you forward email from one to the other, you will need to check both regularly.
How can I forward emails from my Gmail account in my Office365 account?
On your computer, log on to Gmail using the WISD Agency Gmail @washisd.net account you want to forward messages from.
In the top right, click Settings .
Click See All Settings.
Click the Forwarding and POP/IMAP tab.
In the "Forwarding" section, click Add a forwarding address.
Enter the email address you want to forward messages to. (WISD Office 365 washtenawisd.org account)
Click Next > Proceed > OK.
A verification message will be sent to that address. Click the verification link in that message.
Go back to the settings page for the Gmail account you want to forward messages from, and refresh your browser.
Click the Forwarding and POP/IMAP tab.
In the "Forwarding" section, select Forward a copy of incoming mail to.
Choose what you want to happen with the Gmail copy of your emails.
At the bottom of the page, click Save Changes.
ADA & Accessibility
Our School Strives To Ensure Our Website Is Accessible To All Our Visitors
Washtenaw ISD is committed to providing a website that is fully accessible and we are currently in the process of developing a new website to better meet the needs of our customers. Our new website will include improvements to ADA compliance and accessibility, and during this transition, we remain committed to maintaining our existing website's accessibility and usability.
Non Discrimination
It is the policy and commitment of the Washtenaw Intermediate School District not to discriminate on the basis of race, color, religion, national origin, sex, disability, age, height, weight, familial status, marital status, genetic information, sexual orientation or any legally protected characteristic, in its educational programs, activities, admissions, or employment policies in accordance with Title IX of the 1972 Educational Amendments, executive order 11246 as amended, Section 504 of the Rehabilitation Act of 1973 and all other pertinent state and Federal regulations.
Non Discrimination Information
ADA and Title IX Coordinator
ADA and Title IX Coordinator
Brian Marcel
Associate Superintendent
1819 S. Wagner Road
Ann Arbor, MI 48103
(734) 994-8100 ext. 1402
Cassandra Harmon-Higgins
Executive Director, HR & Legal Services
1819 S. Wagner Road
Ann Arbor, MI 48103
(734) 994-8100 ext. 1311