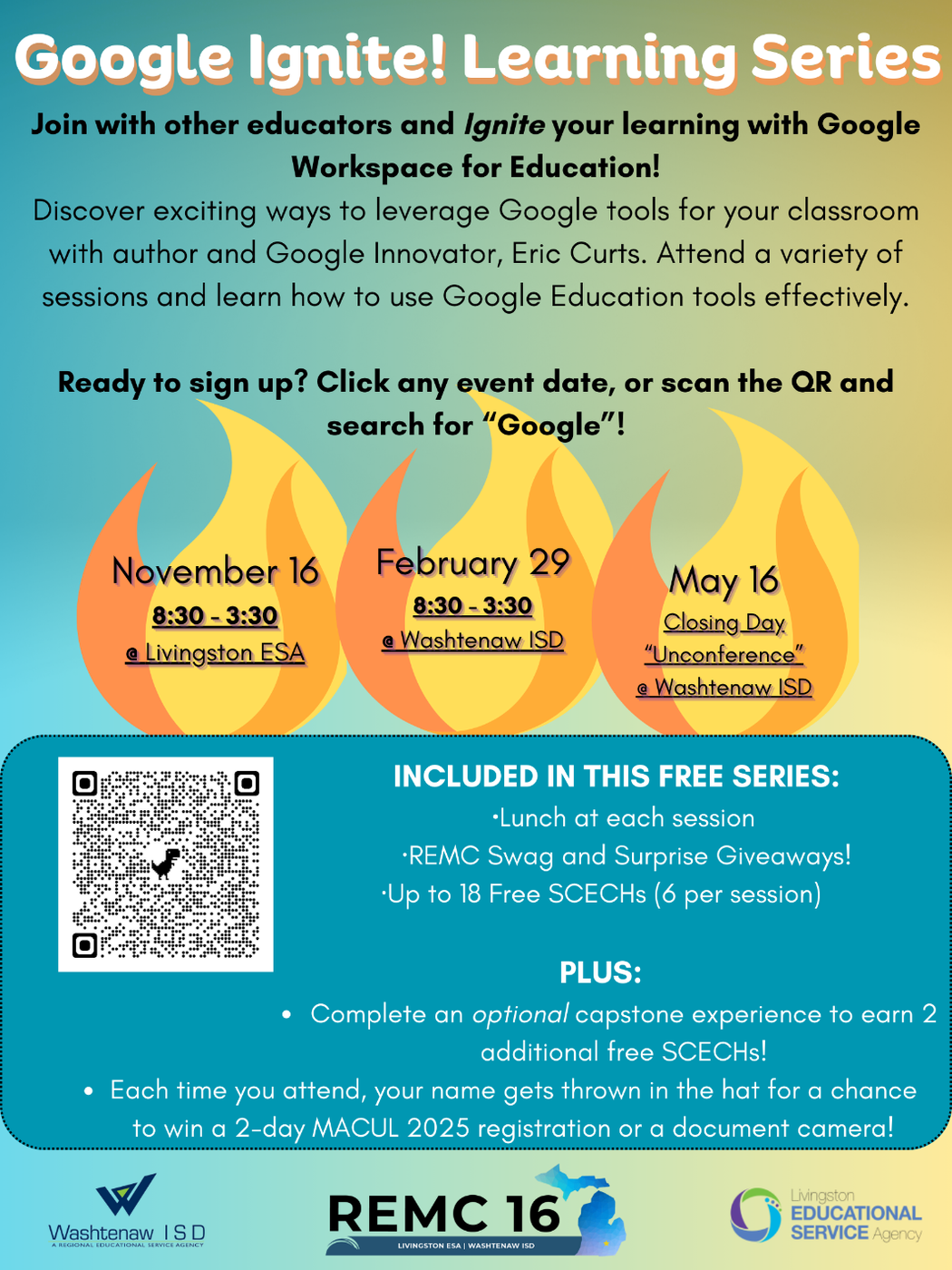 Google Ignite! Learning Series
Hello from your local RITS/REMC Team! We are excited to announce that the Google Ignite! Learning Series is back again this year, and hope you will consider joining us for these fun professional learning opportunities! Author and Google Innovator Eric Curts will be returning to REMC16 (Washtenaw and Livingston Counties) for 3 unique sessions this school year to help us Ignite (or perhaps stoke?) our learning with Google Tools for Education.
You will be treated to lunch, free SCECHs, REMC swag, and surprise giveaways---all while connecting with other area educators to enhance your use of technology in teaching. Additionally, each session you attend earns you an entry into a raffle to win a 2-day MACUL 2025 Conference ticket or a document camera! Space is limited, so please mark your calendars and register today!
Registration Links:
Session 1 on November 16th @ Livingston ESA
Session 2 on February 29th @ Washtenaw ISD
Session 3 on May 16th @ Washtenaw ISD
Please also help us spread the word by sharing the flyer link via your professional channels!
ADA & Accessibility
Our School Strives To Ensure Our Website Is Accessible To All Our Visitors
Washtenaw ISD is committed to providing a website that is fully accessible and we are currently in the process of developing a new website to better meet the needs of our customers. Our new website will include improvements to ADA compliance and accessibility, and during this transition, we remain committed to maintaining our existing website's accessibility and usability.
Non Discrimination
It is the policy and commitment of the Washtenaw Intermediate School District not to discriminate on the basis of race, color, religion, national origin, sex, disability, age, height, weight, familial status, marital status, genetic information, sexual orientation or any legally protected characteristic, in its educational programs, activities, admissions, or employment policies in accordance with Title IX of the 1972 Educational Amendments, executive order 11246 as amended, Section 504 of the Rehabilitation Act of 1973 and all other pertinent state and Federal regulations.
Non Discrimination Information
ADA and Title IX Coordinator
ADA and Title IX Coordinator
Brian Marcel
Associate Superintendent
1819 S. Wagner Road
Ann Arbor, MI 48103
(734) 994-8100 ext. 1402
Cassandra Harmon-Higgins
Executive Director, HR & Legal Services
1819 S. Wagner Road
Ann Arbor, MI 48103
(734) 994-8100 ext. 1311