WISD Security Tips: How to Check if a Password you use has been Breached
As we start the 2023 year, we should all be a bit more security minded and not rely on using the same 2 or 3 easy to remember passwords for every online account. If you visit the website, haveibeenpwned.com, you can check to see if a password you use has been previously exposed in a Data Breach. Over the years there have been hundreds of millions of real-world passwords previously exposed in website data breaches such as Target, Yahoo, and Adobe. This exposure makes them unsuitable for ongoing use as they're at much greater risk of being used to take over other accounts.
Example: Below the password entered is "password123" and has been seen 250,052 times. This will tell you if it appeared in a breach, not which account or website it was breached under. The password you enter is also encrypted and only the first 5 digits of the password's hash (encrypted form of your password) are searched. This site does not store or keep a password you enter on the site. If you find a password of yours has been breached, do not panic, simply change the password for the relevant accounts and make sure the new one hasn't been breached either.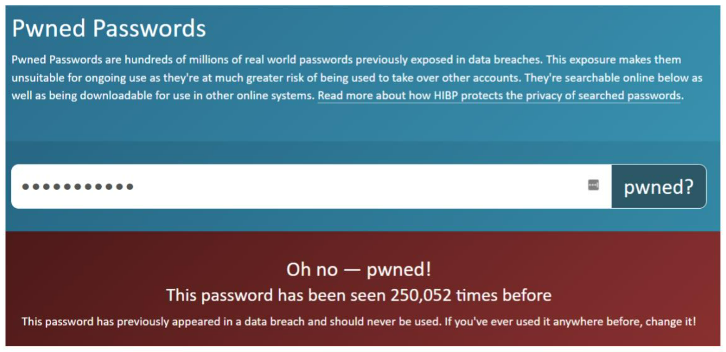 Should you need support in changing your passwords, please reach out to the helpdesk at 734-994-8100 x1286.
ADA & Accessibility
Our School Strives To Ensure Our Website Is Accessible To All Our Visitors
Washtenaw ISD is committed to providing a website that is fully accessible and we are currently in the process of developing a new website to better meet the needs of our customers. Our new website will include improvements to ADA compliance and accessibility, and during this transition, we remain committed to maintaining our existing website's accessibility and usability.
Non Discrimination
It is the policy and commitment of the Washtenaw Intermediate School District not to discriminate on the basis of race, color, religion, national origin, sex, disability, age, height, weight, familial status, marital status, genetic information, sexual orientation or any legally protected characteristic, in its educational programs, activities, admissions, or employment policies in accordance with Title IX of the 1972 Educational Amendments, executive order 11246 as amended, Section 504 of the Rehabilitation Act of 1973 and all other pertinent state and Federal regulations.
Non Discrimination Information
ADA and Title IX Coordinator
ADA and Title IX Coordinator
Brian Marcel
Associate Superintendent
1819 S. Wagner Road
Ann Arbor, MI 48103
(734) 994-8100 ext. 1402
Cassandra Harmon-Higgins
Executive Director, HR & Legal Services
1819 S. Wagner Road
Ann Arbor, MI 48103
(734) 994-8100 ext. 1311