Go to any Technology page on the WISD website to find a link to the ticketing system.
Or go to the Staff page from anywhere on the WISD website, which can be found at the top of the page.


Click on Technology Helpdesk Ticket (CSR).




Login with your username (without @ portion for WISD employee) and your O365 password. Please pay attention to select WISD on third row (again for WISD employees) and click on login.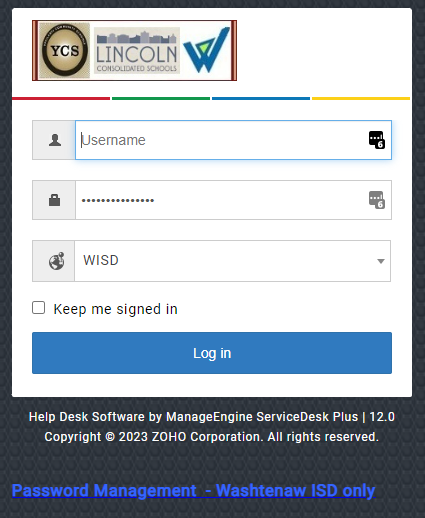 ---
This CSR system is serving Lincoln and Ypsilanti School District as well. If you have an account with one of the local districts, you should login this way to the CSR service:
Please enter your username, without @ portion for Ycschools.us or Lincolnk12.org employee. In very rare case when you have multiple accounts in the system, you need to enter the complete email address including @ycschools.us OR @lincolnk12.org.
Enter the password that is given to your CSR account (not necessarily the same as your email)
In third line, please select Local Authentication
You get the fourth line which you should select Not in Domain option
Click Log in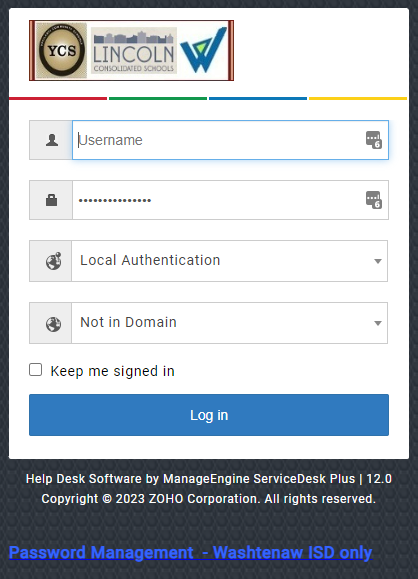 ---
Once you log in on the homepage, click on Report and Issue OR in top menu click on Requests.
Click on New (with Plus sign near it)
Click on others on left side to see options of selecting template to create a new request.
Please pick the one that matches best with your request's nature.

If you have any issue, please call x1286 to report the problem. Please keep in mind that explaining the problem with as many details as you can and providing contact info and the time you are available would result in a faster resolution.
ADA & Accessibility
Our School Strives To Ensure Our Website Is Accessible To All Our Visitors
Washtenaw ISD is committed to providing a website that is fully accessible and we are currently in the process of developing a new website to better meet the needs of our customers. Our new website will include improvements to ADA compliance and accessibility, and during this transition, we remain committed to maintaining our existing website's accessibility and usability.
Non Discrimination
It is the policy and commitment of the Washtenaw Intermediate School District not to discriminate on the basis of race, color, religion, national origin, sex, disability, age, height, weight, familial status, marital status, genetic information, sexual orientation or any legally protected characteristic, in its educational programs, activities, admissions, or employment policies in accordance with Title IX of the 1972 Educational Amendments, executive order 11246 as amended, Section 504 of the Rehabilitation Act of 1973 and all other pertinent state and Federal regulations.
Non Discrimination Information
ADA and Title IX Coordinator
ADA and Title IX Coordinator
Brian Marcel
Associate Superintendent
1819 S. Wagner Road
Ann Arbor, MI 48103
(734) 994-8100 ext. 1402
Cassandra Harmon-Higgins
Executive Director, HR & Legal Services
1819 S. Wagner Road
Ann Arbor, MI 48103
(734) 994-8100 ext. 1311