From the Start Page: Current Classes, click on the icon which looks like a calendar.

---
Change the Date Range by clicking on the Edit button, to change the date range.

---
Attendance Code for 2020-2021 to use in PowerSchool.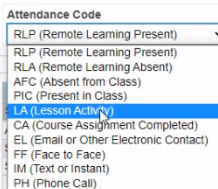 ---
Log into PowerSchool Special Education Program PSSP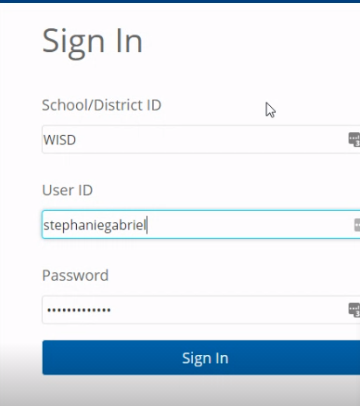 ---
Navigate to your, "My Student" and click on the profile icon for your first student; to view that student's contact log to assist with your attendance in PS.

---
Click on Contact logs profile page

---
In the student's Contact log will show all the contact logs all service providers have logged for your student. These contact logs can be used for attendance.

---
2-Way interaction:
"2-way interaction" means a communication that occurs between a pupil and the pupil's teacher or at least 1 of the pupil's teachers or another district employee who has responsibility for the pupil's learning, grade progression, or academic progress
---
Meaning of the codes:
Remote Learning Present (RLP) – in class or smaller groups via zoom, skype, google meets etc.
Remote Learning Absent (RLA) – absent from class via zoom, skype, google meets, etc.
Present in Class (PIC) – in person in building
Absent from Class (AFC) – absent from in person in class on scheduled day
Lesson Activity (LA) – logged in to access assignment and/or completion of an activity
Course Assignment Completed (CA) – paper or electronic assignment completion
Email/Other Electronic Contact (EL) – 2-way communication related to classwork or assignment
Face to Face (FF) – 2-way communication related to classwork or assignment
Text or Instant Message (IM) – 2-way communication related to classwork or assignment
Phone Call (PH) – 2-way communication related to classwork or assignment
ADA & Accessibility
Our School Strives To Ensure Our Website Is Accessible To All Our Visitors
Washtenaw ISD is committed to providing a website that is fully accessible and we are currently in the process of developing a new website to better meet the needs of our customers. Our new website will include improvements to ADA compliance and accessibility, and during this transition, we remain committed to maintaining our existing website's accessibility and usability.
Non Discrimination
It is the policy and commitment of the Washtenaw Intermediate School District not to discriminate on the basis of race, color, religion, national origin, sex, disability, age, height, weight, familial status, marital status, genetic information, sexual orientation or any legally protected characteristic, in its educational programs, activities, admissions, or employment policies in accordance with Title IX of the 1972 Educational Amendments, executive order 11246 as amended, Section 504 of the Rehabilitation Act of 1973 and all other pertinent state and Federal regulations.
Non Discrimination Information
Title IX Coordinator
ADA and Title IX Coordinator
Brian Marcel
Associate Superintendent
1819 S. Wagner Road
Ann Arbor, MI 48103
(734) 994-8100 ext. 1402
Cassandra Harmon-Higgins
Executive Director, HR & Legal Services
1819 S. Wagner Road
Ann Arbor, MI 48103
(734) 994-8100 ext. 1311