6-12 Disciplinary Literacy
Essential Instructional Practices for Disciplinary Literacy in the Secondary Classroom: Grades 6 to 12
Our students learn the foundations of literacy throughout their elementary school years. As students continue to develop their skills through middle school and high school, literacy instruction must also help them meet increasingly complex subject area demands. These demands include developing critical thinking, problem-solving, and communication skills specific to each discipline.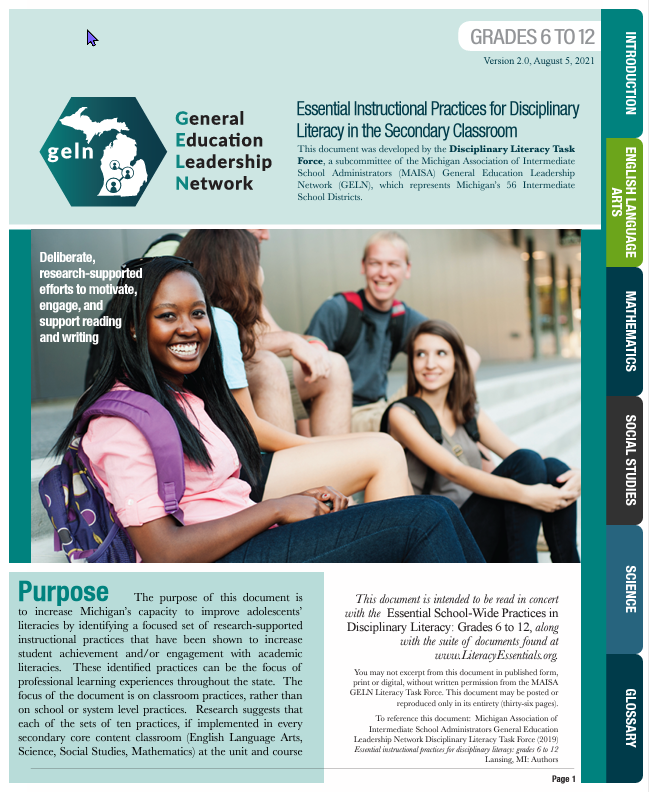 Expert research suggests that 10 sets of practices outlined in this document can have a positive impact on both literacy development and conceptual learning of content. The consistent use of these practices in every Michigan classroom can make a measurable, positive difference in student learning and improve the state's literacy achievement.
Visit www.literacyessentials.org for more information
Contact Melissa Brooks-Yip with questions
Equity-Based Disciplinary
Literacies

(

EBDL

)

A new collaborative for educators focused on creating disciplinary literacy instruction that is culturally responsive, equity-driven, and identity-affirming for themselves and for their students.

Throughout this school year, we built our foundational understandings of equity and literacy through the creation of our own personal syllabus that included relevant readings from our field, interviews with community members, and experts in the disciplines. You design your learning path; we help you get there.

Contact Melissa Brooks-Yip with questions
ADA & Accessibility
Our School Strives To Ensure Our Website Is Accessible To All Our Visitors
Washtenaw ISD is committed to providing a website that is fully accessible and we are currently in the process of developing a new website to better meet the needs of our customers. Our new website will include improvements to ADA compliance and accessibility, and during this transition, we remain committed to maintaining our existing website's accessibility and usability.
Non Discrimination
It is the policy and commitment of the Washtenaw Intermediate School District not to discriminate on the basis of race, color, religion, national origin, sex, disability, age, height, weight, familial status, marital status, genetic information, sexual orientation or any legally protected characteristic, in its educational programs, activities, admissions, or employment policies in accordance with Title IX of the 1972 Educational Amendments, executive order 11246 as amended, Section 504 of the Rehabilitation Act of 1973 and all other pertinent state and Federal regulations.
Non Discrimination Information
ADA and Title IX Coordinator
ADA and Title IX Coordinator
Brian Marcel
Associate Superintendent
1819 S. Wagner Road
Ann Arbor, MI 48103
(734) 994-8100 ext. 1402
Cassandra Harmon-Higgins
Executive Director, HR & Legal Services
1819 S. Wagner Road
Ann Arbor, MI 48103
(734) 994-8100 ext. 1311