2030 Planning
Washtenaw ISD is embarking on our 2030 Planning where we will re-evaluate our district's purpose and values and consider the future we want to help create for children, youth and families in Washtenaw County.
At our core, Washtenaw ISD strives to live up to our Educational Equity Policy in everything we do. We are inviting community members to be a part of this planning as we live into our commitment of listening to and working alongside organizational partners and the people who are most impacted by our service role within Washtenaw County. We believe we must listen to multiple and diverse perspectives throughout this process so we can develop a shared vision for a future we can ALL be inspired and committed to working toward.
We're grateful to be part of a community that is deeply invested in the futures of our children, youth and families, and we extend an enthusiastic invitation to you to help us shape what education in our community looks like over the next decade.
Please watch this page for additional information on future community listening sessions or sign up to receive information directly about future sessions.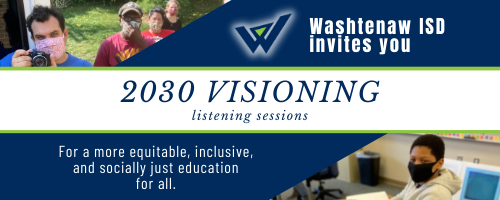 ADA & Accessibility
Our School Strives To Ensure Our Website Is Accessible To All Our Visitors
Washtenaw ISD is committed to providing a website that is fully accessible and we are currently in the process of developing a new website to better meet the needs of our customers. Our new website will include improvements to ADA compliance and accessibility, and during this transition, we remain committed to maintaining our existing website's accessibility and usability.
Non Discrimination
It is the policy and commitment of the Washtenaw Intermediate School District not to discriminate on the basis of race, color, religion, national origin, sex, disability, age, height, weight, familial status, marital status, genetic information, sexual orientation or any legally protected characteristic, in its educational programs, activities, admissions, or employment policies in accordance with Title IX of the 1972 Educational Amendments, executive order 11246 as amended, Section 504 of the Rehabilitation Act of 1973 and all other pertinent state and Federal regulations.
Non Discrimination Information
ADA and Title IX Coordinator
ADA and Title IX Coordinator
Brian Marcel
Associate Superintendent
1819 S. Wagner Road
Ann Arbor, MI 48103
(734) 994-8100 ext. 1402
Cassandra Harmon-Higgins
Executive Director, HR & Legal Services
1819 S. Wagner Road
Ann Arbor, MI 48103
(734) 994-8100 ext. 1311