June 20, 2023
WISD Receives 4 National Communication Awards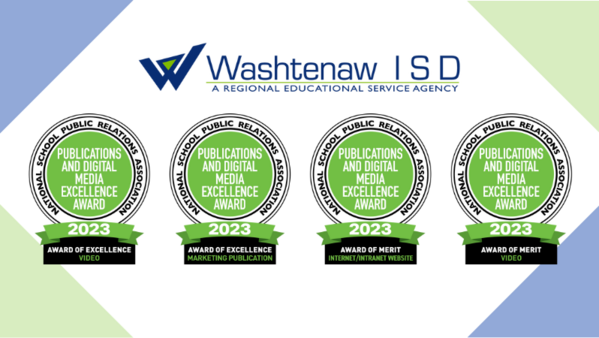 The National School Public Relations Association (NSPRA) recently announced that the Washtenaw Intermediate School Distirct (WISD) received four awards in its 2023 Publications and Digital Media Excellence Contest. NSPRA's Publications and Digital Media Excellence Awards recognize outstanding education publications, e-newsletters, digital media programs, radio/TV/video programs, social media, infographics, blogs and websites. Honors are awarded according to publication or digital media type, and organization type and size. Entries are judged on their overall excellence as well as quality as compared to other entries in the category. The top award in each category is the Award of Excellence. Awards of Merit and Honorable Mentions are also given in each category.
The district received two Awards of Excellence and two Awards of Merit for the following:
Awards of Excellence:

Help Me Grow Marketing Materials in multiple languages (Category: Marketing publication)
A New Path to Teach: The Parapro-to-Teacher Certification Pilot Program video (Category: Video produced with an outside contractor)

Awards of Merit:

WISD Website (Category: Internet/Intranet Website)
The Magic of High Point video (Category: Video produced with an outside contractor)

"At Washtenaw ISD, we strive to provide the highest level of service to our school community," shared Ashley Kryscynski, Communications and Public Relations Specialist. "I'm proud to tell the story of our team's exceptional work and the impact they have on young children, students, families, and educators across Washtenaw County."
Since 1935, the National School Public Relations Association has provided school communication training and services to school leaders throughout the United States, Canada, and the U.S. Department of Defense Dependents Schools worldwide. The association's mission is to advance education through responsible communication.
ADA & Accessibility
Our School Strives To Ensure Our Website Is Accessible To All Our Visitors
Washtenaw ISD is committed to providing a website that is fully accessible and we are currently in the process of developing a new website to better meet the needs of our customers. Our new website will include improvements to ADA compliance and accessibility, and during this transition, we remain committed to maintaining our existing website's accessibility and usability.
Non Discrimination
It is the policy and commitment of the Washtenaw Intermediate School District not to discriminate on the basis of race, color, religion, national origin, sex, disability, age, height, weight, familial status, marital status, genetic information, sexual orientation or any legally protected characteristic, in its educational programs, activities, admissions, or employment policies in accordance with Title IX of the 1972 Educational Amendments, executive order 11246 as amended, Section 504 of the Rehabilitation Act of 1973 and all other pertinent state and Federal regulations.
Non Discrimination Information
ADA and Title IX Coordinator
ADA and Title IX Coordinator
Brian Marcel
Associate Superintendent
1819 S. Wagner Road
Ann Arbor, MI 48103
(734) 994-8100 ext. 1402
Cassandra Harmon-Higgins
Executive Director, HR & Legal Services
1819 S. Wagner Road
Ann Arbor, MI 48103
(734) 994-8100 ext. 1311