June 21, 2023
WISD Superintendent Selected for the Google GSV Education Innovation Fellowship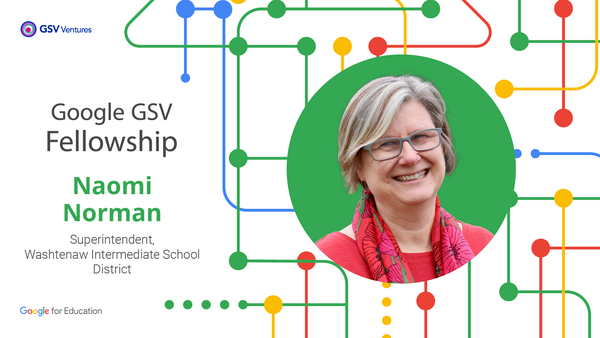 Global Silicon Valley (GSV) and Google for Education are proud to announce that WISD Superintendent Naomi Norman has been chosen as one of the esteemed participants in the inaugural cohort of the Google GSV Education Innovation Fellowship.

The Google GSV Education Innovation Fellowship aims to unite top-level instructional district leaders dedicated to working at the intersection of technology and instruction to inform and shape the future of education. By fostering collaboration among these visionary change agents, the Fellowship will create a powerful network that drives advancements in the EdTech landscape, driving toward rigorous outcomes for students.

Throughout the pilot year, Superintendent Norman will work alongside other Fellowship participants, engaging in collaborative projects, sharing insights, and shaping the future of educational technology. Through their collective efforts, the Google GSV Education Innovation Fellowship aims to create lasting impacts on the education system, paving the way for a more innovative and student-centered learning environment.

The Google GSV Education Innovation Fellowship marks a significant milestone in the pursuit of advancing education through technology. Superintendent Norman's participation in the Fellowship will help define the community and show what is possible for the future.
ADA & Accessibility
Our School Strives To Ensure Our Website Is Accessible To All Our Visitors
Washtenaw ISD is committed to providing a website that is fully accessible and we are currently in the process of developing a new website to better meet the needs of our customers. Our new website will include improvements to ADA compliance and accessibility, and during this transition, we remain committed to maintaining our existing website's accessibility and usability.
Non Discrimination
It is the policy and commitment of the Washtenaw Intermediate School District not to discriminate on the basis of race, color, religion, national origin, sex, disability, age, height, weight, familial status, marital status, genetic information, sexual orientation or any legally protected characteristic, in its educational programs, activities, admissions, or employment policies in accordance with Title IX of the 1972 Educational Amendments, executive order 11246 as amended, Section 504 of the Rehabilitation Act of 1973 and all other pertinent state and Federal regulations.
Non Discrimination Information
ADA and Title IX Coordinator
ADA and Title IX Coordinator
Brian Marcel
Associate Superintendent
1819 S. Wagner Road
Ann Arbor, MI 48103
(734) 994-8100 ext. 1402
Cassandra Harmon-Higgins
Executive Director, HR & Legal Services
1819 S. Wagner Road
Ann Arbor, MI 48103
(734) 994-8100 ext. 1311