August 19, 2022
Celebrating WISD's Milestone Team Members!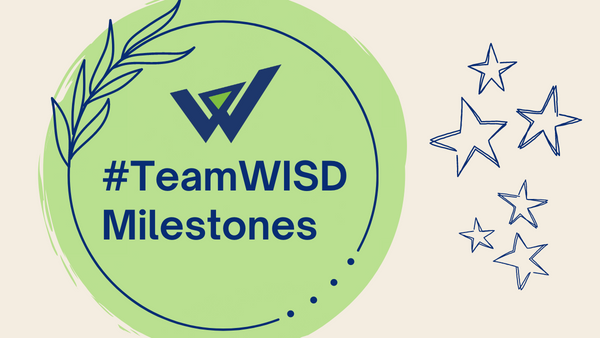 Washtenaw ISD would like to congratulate our team members celebrating a milestone work anniversary! We are grateful for your dedication and service, and proud you are part of #TeamWISD!
Check them out below to learn more about what brings them back to WISD each year, what they value most about working at WISD, and what their supervisor values about them.
10 years of service
Melisa Burr, Teaching Assistant
What brings her back each year: My continuing love for working with this unique population of individuals.
What her supervisor values: Melisa serves students with compassion and a strong dedication to their growth in independence and self advocacy. She goes above and beyond using her experience and skills in providing resources and tools to enhance students' skills. Every moment for Melisa is an opportunity for a teachable moment. Someday we hope to see her in a teaching position. Thank you, Melisa, for your years of service and support!
Margy Long, Director of the Success by 6 Great Start Collaborative
What she values about working at WISD: The WISD's willingness to support staff in continuous learning and growth around equity and social justice.
What her supervisor values: I value Margy's deep relationships in our community, as well as her passionate commitment to social justice. She models lifelong learning, is deeply reflective, and always advocates for youth and families that our systems do not serve well or inadvertently marginalize. She is appreciated and respected by her teammates.
Sandy Wilkinson, Event Services Receptionist
What brings her back each year: To be painfully honest, the $s are needed to provide living situations for both my daughter and myself. But if it were not for the fact I love my job, the staff, and those with whom I come in contact, I could not work full-time at this age. The TLC is a wonderful building in which to work!
What her supervisor values: As the first point of contact for the agency, Sandy has warmly welcomed and directed thousands of visitors, staff, and the community with kindness and a genuine willingness to help. Thank you Sandy for your dedication and winning attitude. Your hospitality is unmatched. Congratulations on 10 years of exceptional service!
Jessica Naebeck, Special Education Teacher
What she values about working at WISD: The bonds I have with our students and their families. Sometimes, we're the only family they have. I value all the relationships I've built. Past, present, and future.
What her supervisor values: Jessica can always be relied on for coordinating our social events. She is welcoming and friendly to all.
Bill Massey, Special Education Teacher
What his supervisor values: Bill is a compassionate dedicated teacher who is a positive listener, resource, and confidant for his students and their families. His positive attitude and care helps him develop strong relationships. Bill focuses on students building self-advocacy and efficacy which leads to students increasing their independence.
Kimberly Vorias, Teaching Assistant
What her supervisor values: Kim has been dedicated to servicing all the students she has worked with over the past 10 years. The agency, students, and families are lucky to have her.
Elizabeth Major, Teacher Consultant
What her supervisor values: Elizabeth Major is a Teacher Consultant at the Early College Alliance (ECA). She is a hard worker and student advocate with a kind demeanor that focuses on supporting students first. She is dedicated to improving her teaching skills annually. While supporting her students, she ensures that all stakeholders are providing exactly what they are supposed to, to ensure students have what they need for success. If the stakeholders fall short of perfection, Elizabeth does not hesitate to advocate to get students' needs met.
Mary Eddy, Special Education Teacher
What she values about working at WISD: I love working with the students and their families. It's rewarding to help the kids increase their independence, communication, and mobility skills. The best part is to see them make connections with other students (friends) and staff!
What her supervisor values: To quote a parent compliment, "Mary is a class act". She is always pushing herself to try new teaching strategies in her classroom.
Kevin Sledge, Teaching Assistant
What his supervisor values: Kevin has demonstrated "high expectations" for the students that he supports. The interactions and the relationships that he has with the students is incredible. Kevin is always willing to help and support his colleagues, and his commitment to his own educational goals are an asset to Kevin. Thanks Kevin for all you do for students.
Melissa Brooks-Yip, Supervisor of Instruction
What she values about working at WISD: I value that WISD is a service agency, working every day to serve public educators and children, which has been my career in one form or another for 23 years now.
What her supervisor values: Melissa is an outstanding educator who is deeply passionate about serving the educators and students. She is extremely resourceful and action-oriented. She daily seeks to find ways to fight injustice in our education system. It is truly a pleasure to work with her.
15 years of service
Leah Vance, Young Adult Transition Teacher
What brings her back each year: Observing students utilizing the skills we teach and the local connections we make to gain independence and lead their lives within their home communities brings a magical joy, which brings me back each year. Being able to teach and learn within our local communities provides sustainable life-long learning outcomes.
What her supervisor values: Leah is a dedicated teacher and role model. She helps elevate staff through mentoring and modeling adult expectations for students. Leah promotes independence and self-advocacy. Her ability to facilitate collaboration with community supports assist her students in becoming independent and positive community members. Leah, your knowledge, experience and skills with transitions are a valued asset to all you come in contact with. Thank you for your years of service and dedication to the students you serve and the families you support!
Brad Haeflinger, Curriculum Specialist
What he values about working at WISD: Being provided the flexibility to think outside the box in creating an environment where our students are provided the same academic opportunities as those in other districts.
What his supervisor values: Despite Brad's poor choice of college football team to root for, his knowledge in curriculum support is extensive. He is always researching new ideas to help support WISD students.
Kimberly Minetee, Teaching Assistant
What her supervisor values: Kim is a strong advocate for young adults within our community. She empowers students to find their life's passion while also teaching them the tools they need to reach their goals.
Christian Kosky, Teaching Assistant
What his supervisor values: Christian always brings a smile and laughter to his work with students and to the team! He is always ready to help wherever he is needed and we are so lucky to have him at Progress Park!
Dawn Gilson, Teaching Assistant
What she values about working at WISD: I value my students and assisting them in meeting their personal goals!
What her supervisor values: Dawn - your team values your comedic approach to motivating others with a song, a joke or in dance. You promote a culture of learning that is fun and engaging. We appreciate your skills in developing art, music, exercise, and dance activities for young adult students. You're a role model for self-advocacy and positive communication. Thank you for all you do and your years of service.
20 years of service
Dawn Keith, Teacher Consultant
What brings her back each year: My commitment to the students, their lives, and the potential each one of them has to do great things. I enjoy my job and love having the opportunity to work with such a unique population. No two days are ever the same and helping students problem-solve as well as celebrate their successes is why I come back each year!!!!
What her supervisor values: Dawn has a gift for developing relationships with colleagues and young adults. She motivates through humor, high expectations, and kindness. She has extensive transition knowledge and is a leader throughout the WISD and our county-wide educational community.
Sarah Devaney, Research Assistant
What she values about working at WISD: Coworkers who share a purpose --that we can make a difference in the lives of young people.
What her supervisor values: Sarah caring and inquisitive demeanor is a gift to our team.
Monica Hill, Pupil Auditing Specialist
What brings her back each year: The collaborative work between departments to support the local school districts and students is what drew me to WISD. What keeps me coming back is that I love working with a great team. It's something I always wanted to do and to have that here is something special.
What her supervisor values: Over her 20-year career here at WISD, Monica has built a great relationship with all the pupil accounting staff and other administrators at our LEAs. She is able to balance her role as an auditor while still providing excellent customer service. Have you ever heard of someone wanting to call their auditor? That's one of the many reasons I value having Monica on our team!
Holly Heaviland, Executive Director of Community & School Partnerships
What she values about working at WISD: I value the opportunity to serve youth and families in our community.
What her supervisor values: Since the day she started here, Holly has attended to the care of children and adults in our system. From new and healthier ways to work together to support struggling students with the Instructional Consultation Teams initiative to her work around healthy school environments with the restorative practices efforts to her passion for students that the system marginalizes she is always taking a human-centered approach. Her care for others is always shining through.
Jacqui Coluccy, Teacher Consultant
What she values about working at WISD: I value the relationships. The relationships I have with WISD staff, Ann Arbor staff, students and their parents. People are important to me.
What her supervisor values: Jacqueline Coluccy, better know as Jacqui to us, is a very hard-working dedicated LRE Teacher Consultant servicing Ann Arbor Public Schools. Jacqui always finds time to volunteer her time to assist whoever and whatever. She is that person who has to sit on her hands so she won't raise them to volunteer and take on another task when help is needed. She is thoughtful, loving, giving, and loves gnomes. We buy each other gnomes when we see one that matches our current mood or personality. She is a team player and enjoys working and supporting everyone. Jacqui, thanks so much for all that you do (and I'm not talking about just for kids), your service is impeccable!
Michael Graulich, Teaching Assistant
What his supervisor values: Mike is a dependable employee who cares for students, families, and his colleagues. He engages with humor and can turn any situation into a laughable or positive moment. Thank you, Mike, for your years of service and support!
Pamela Handy, Teaching Assistant
What brings her back each year: It is all about the students, interacting and learning together alongside them.
What her supervisor values: Pam is a dedicated teaching assistant who always strives to do what is best for students and their families. She is an integral part of the Dexter YA team.
25 years of service
Michael McNamara, Technology Specialist
What his supervisor values: I value Mike's dedication to IT and ensuring services and connectivity are up - especially in the early morning hours before schools start. I also value Mike's EISJ focus on our student population, helping bridge their needs with their staff and technology.
Angela Witham, Teaching Assistant
What brings her back each year: Of course working with the students is a highlight of the school year, but also working with a great team of staff members in all areas at High Point!
What her supervisor values: Angela is the "go-to" person when someone needs assistance. She does it all!
Cheryl Taylor, Events and District Services Manager
What brings her back each year: The connection to my work, my colleagues who have become friends, and the many opportunities to enhance my knowledge and skillset via lifelong learning.
What her supervisor values: Cheryl Taylor is a gem who always looks out for others to ensure their needs are met and they can comfortably and successfully complete their day. The care and reliable customer service Cheryl provides makes others feel like they are welcome and supported.
40 years of service
Brenda Hegwood, Achievement Initiatives Office Professional
What brings her back each year: I love working at Washtenaw ISD and have pretty much grown up here. I came here when I was in my twenties and feel like this is my family.
What her supervisor values: Over her 40 years, Brenda has worked for the special education, technology, and instruction teams. She sees us as her work "family." With her love of birds, you can't miss her desk and all the bird images.
ADA & Accessibility
Our School Strives To Ensure Our Website Is Accessible To All Our Visitors
Washtenaw ISD is committed to providing a website that is fully accessible and we are currently in the process of developing a new website to better meet the needs of our customers. Our new website will include improvements to ADA compliance and accessibility, and during this transition, we remain committed to maintaining our existing website's accessibility and usability.
Non Discrimination
It is the policy and commitment of the Washtenaw Intermediate School District not to discriminate on the basis of race, color, religion, national origin, sex, disability, age, height, weight, familial status, marital status, genetic information, sexual orientation or any legally protected characteristic, in its educational programs, activities, admissions, or employment policies in accordance with Title IX of the 1972 Educational Amendments, executive order 11246 as amended, Section 504 of the Rehabilitation Act of 1973 and all other pertinent state and Federal regulations.
Non Discrimination Information
ADA and Title IX Coordinator
ADA and Title IX Coordinator
Brian Marcel
Associate Superintendent
1819 S. Wagner Road
Ann Arbor, MI 48103
(734) 994-8100 ext. 1402
Cassandra Harmon-Higgins
Executive Director, HR & Legal Services
1819 S. Wagner Road
Ann Arbor, MI 48103
(734) 994-8100 ext. 1311